ACCENTS - SHELVES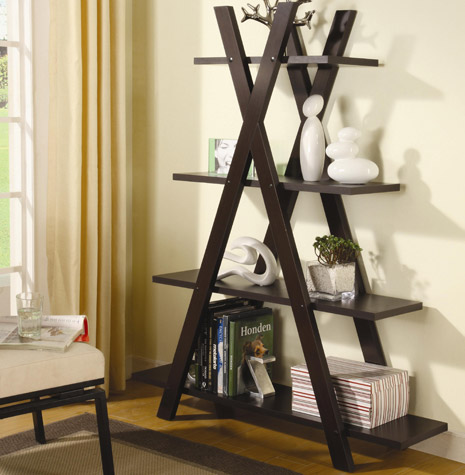 This cool bookcase offers a distinctive storage solution for any room in your home. The contemporary "X" design create a bold look, in a deep Cappuccino finish that is sure to complement your decor. Four shelves are stacked from small to larger,
Bookcase in contemporary "X" design
Item Number: AC-106106772
Price: $198.00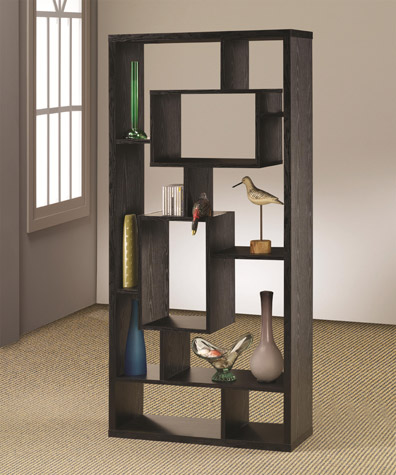 This asymmetrical backless display shelf is visually appealing and structurally stimulating. Featuring cube shelves of varying sizes, it has multiple shelf surfaces for home accents and décor of your choosing. Decorate with photo frames, vases, collectibl
Asymmetrical backless display shelf
Item Number: AC-106106771
Price: $228.00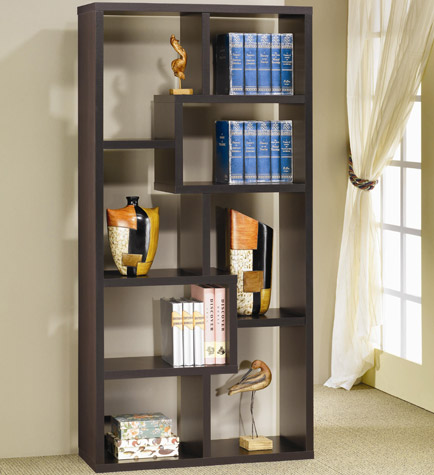 Display cabinet with interlocking shelves in cappuccino finish
Display cabinet with interlocking shelves in cappuccino finish
Item Number: AC-106106627
Price: $248.00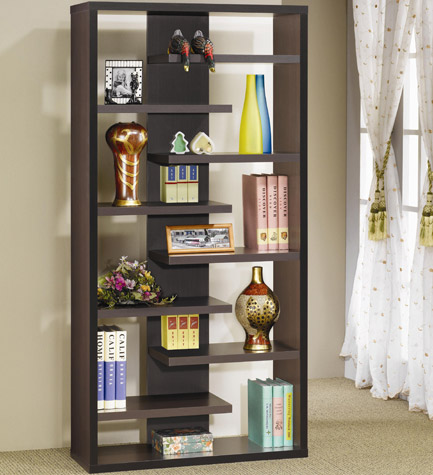 This bold contemporary bookcase will add stylish storage to your living room, office, or hallway. Finished in a deep Cappuccino, this sleek backless bookcase features an asymmetrical design with staggered cube shelves. Eight spacious compartments in vario
Contemporary bookcase in deep cappuccino finish
Item Number: AC-106106628
Price: $258.00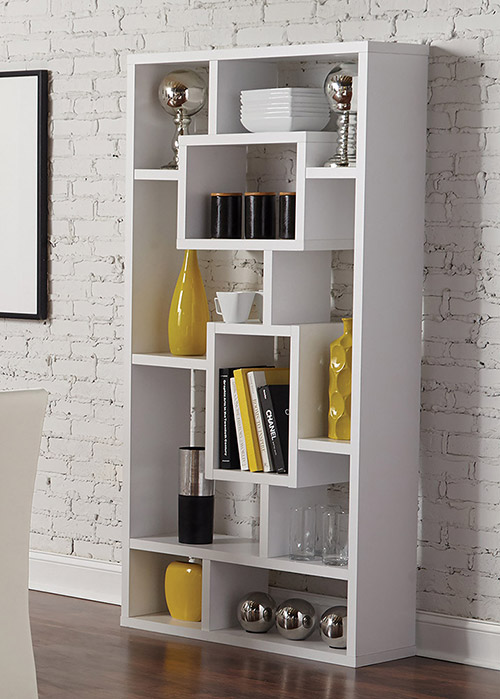 10-Shelf Bookcase White. This bold bookcase features ten shelves of various sizes to show off your favorite keepsakes. With expert craftsmanship and high-quality materials, it provides safe, sturdy storage. It's cool, contemporary silhouette adds artsy appeal to a room with its striking, geometric shapes. This bookcase is available in white, cappuccino, or weathered grey for a variety of options to fit any decor.
10-shelf bookcase in white finish
Item Number: AC-110110355
Price: $278.00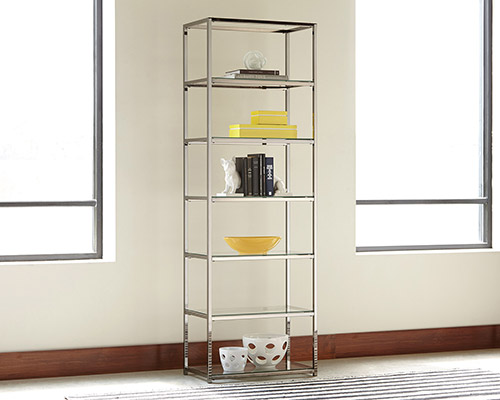 Carmelo 6-Shelf Bookcase Black Nickel. Sleek, elegant, and stylish. This bookcase brings a tasteful look to a contemporary living room or family space. Built from steel with a black nickel finish, its frame is delightfully neutral and yet beautiful. Clear tempered glass shelving offers a gorgeous coordinating look. Display decor, books, and miscellaneous on six tiers of shelving.
Carmelo 6-shelf bookcase in black nickel
Item Number: AC-110110307
Price: $328.00