LIVING - COFFEE TABLES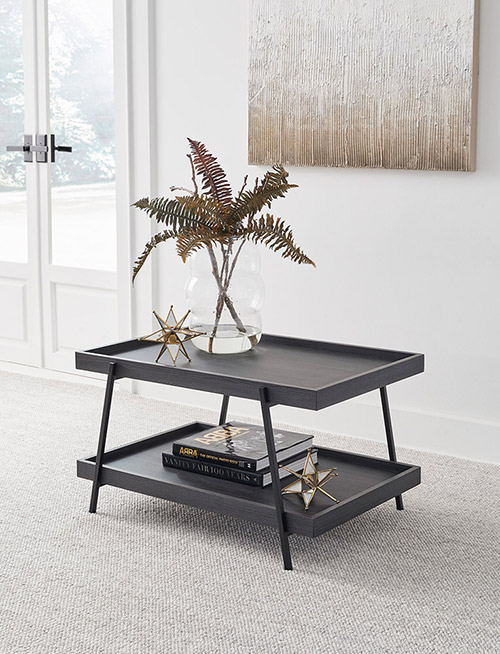 Yarlow Coffee Table. Replicated blackened wood finish with a grayed, textural grain for a classic look. Metal base with black powdercoat finish.
"Yarlow" collection coffee table
Item Number: LR-109109645
Price: $108.00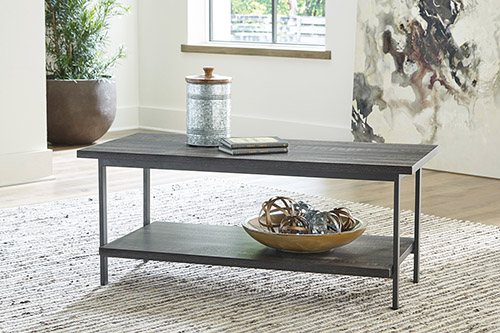 Jandoree Coffee Table. This coffee table is designed for the modern tastemaker. Minimalist design blends grayish brown surfaces with gunmetal gray metal legs for a look that's cool and contemporary and a vibe that's warm and inviting. Color: Grayish Brown
Jandoree collection coffee table
Item Number: LR-112112292
Price: $128.00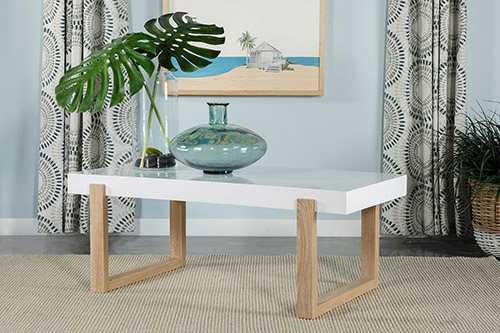 Pala Rectangular Coffee Table with Sled Base White High Gloss and Natural. A spacious white high gloss tabletop offers a minimal look and feel to this modern coffee table. Designed with cheerful bright hues throughout, this coffee table also features a thick square tabletop that nestles inside a sled base with dual U-shape legs. The base's light natural hue further pushes the whimsical nature of this coffee table and offers a charming casual look with its variegated wood grain pattern.
Pala Rectangular Coffee Table
Item Number: LR-111111936
Price: $148.00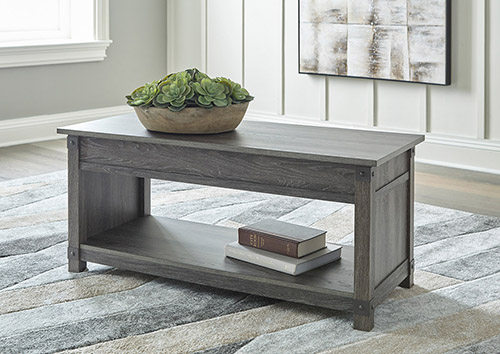 Freedan Lift-Top Coffee Table. Raise the bar on modern farmhouse design with this lift top coffee table. Sporting a grayish brown replicated wood grain effect, its handy spring-loaded mechanism brings the tabletop closer to you. This versatile table makes it easier than ever to eat, work or play from the comfort of your sofa. Engineered wood with grayish brown wood grain laminate.

*Color: Grayish Brown
*Metal accents
*Lift top design; hidden storage under lid
Freedan coffee table
Item Number: LR-112112745
Price: $168.00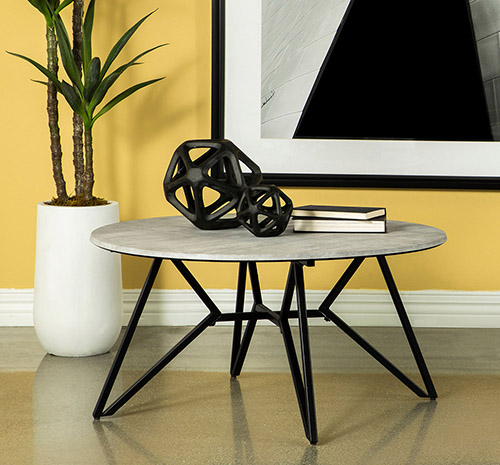 Hadi Round Coffee Table with Hairpin Legs Cement and Gunmetal. Gunmetal finish hairpin legs offer an industrial edginess to this modern coffee table. Designed with a faux cement top in an elegant round shape, this spacious coffee table offers a casual, chic space to keep books, cocktails and more. The cement-like top even features a sandy feel for a hint of realist texture.

*Finish: Cement/ Gunmetal
Hadi Round Coffee Table
Item Number: LR-111111929
Price: $178.00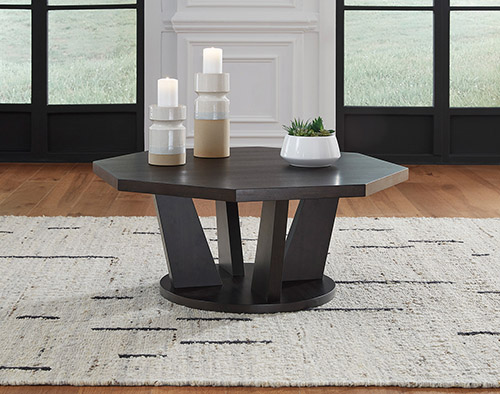 Chasinfield Coffee Table. For the ultimate in casual contemporary styling, accent your sofa or loveseat with this chic coffee table. Designed with an octagonal top and trapezoid-shaped legs, its geometric elements create a bold, eye-catching look.

*Dark espresso brown finish
Chasinfield coffee table
Item Number: LR-112112684
Price: $198.00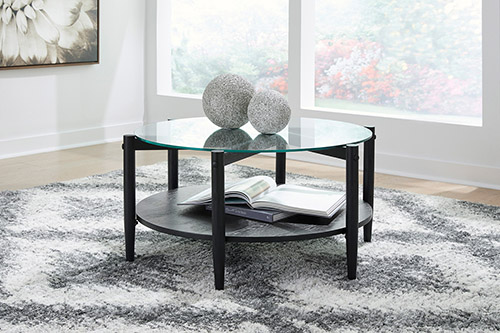 Westmoro Coffee Table. An always-trendy complement to modern decor, this round coffee table creates a contemporary urban vibe. Its ever-classic satin black finish allows the textural wood grain to peek through. Six interlocking legs form a cool geometric design visible through the clear tempered glass tabletop. Color: Black
Westmoro collection coffee table
Item Number: LR-112112248
Price: $198.00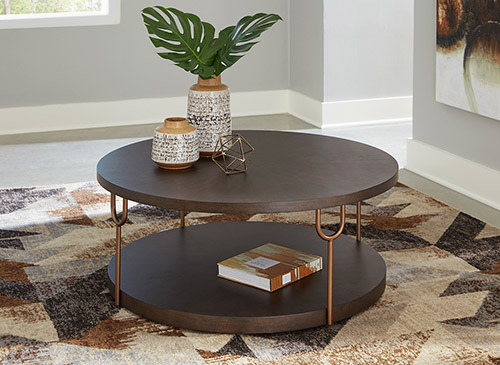 Brazburn Coffee Table. With the addition of a striking accent piece, one can take any room from ordinary to extraordinary. And this round coffee table has just what it takes to elevate your home's decor to astonishing new heights. Made of wood veneer in a dark espresso brown finish and complemented by metal tubular legs, its artful composition and spartan design mesh seamlessly into any modern living space.

*Metal tubular legs with antiqued goldtone finish
*Fixed lower shelf
*Casters for easy mobility
Brazburn coffee table
Item Number: LR-112112674
Price: $198.00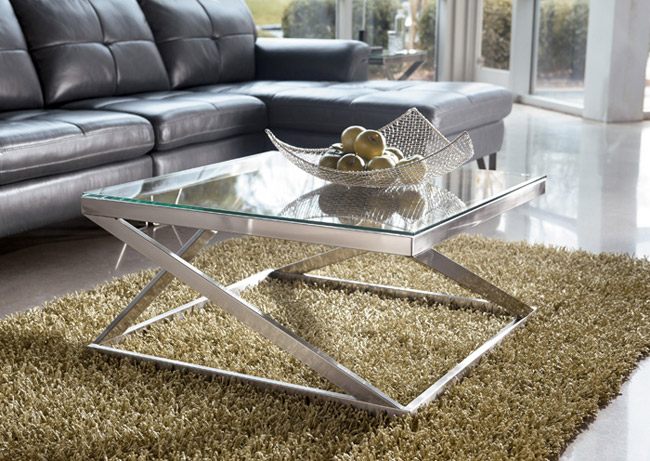 Coylin Coffee Table. When it comes to clean-lined, modern style, this square coffee table comes full circle. Decked out in a chic finish, the angled metal base is striking from every angle. It's topped off with clear glass with polished edging for a sense of refinement.
"Coylin" occasional table collection
Item Number: LR-107107741
Price: $218.00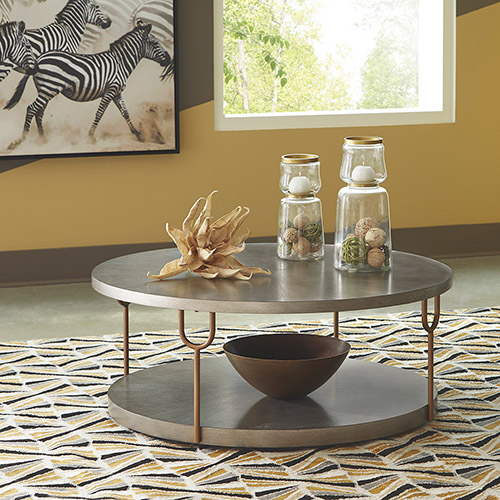 Ranoka Coffee Table. With the addition of a striking accent piece, one can take any room from ordinary to extraordinary. And this round coffee table has just what it takes to elevate your home's decor to astonishing new heights. Made with wood veneer in a warm metallic silvertone finish and complemented by metal tubular legs.

*Color: Platinum
*Metal tubular legs with goldtone finish
*Fixed lower shelf
*Casters for easy mobility


Ranoka coffee table
Item Number: LR-112112672
Price: $218.00