LIVING - SOFA & LOVESEAT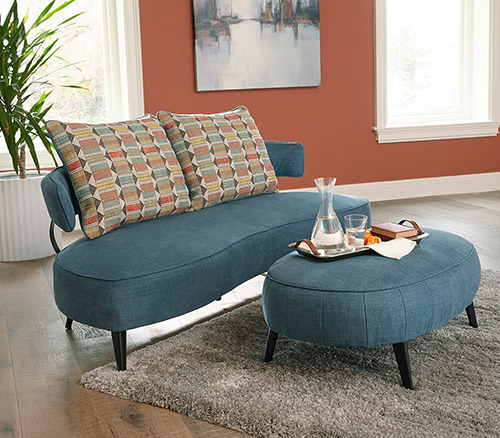 Hollyann RTA Sofa. Cool takes a new shape in your living room with this sofa. Rounding out your stylish, urban space, this piece sports a velvety soft upholstery and sleek, tapered legs. Curl up with comfort, and really turn around your home decor. Polyester upholstery. Assembly required. Color Grey. Color Blue
"Hollyann" collection contemporary sofa
Item Number: LR-109109575
Price: $598.00 $498.00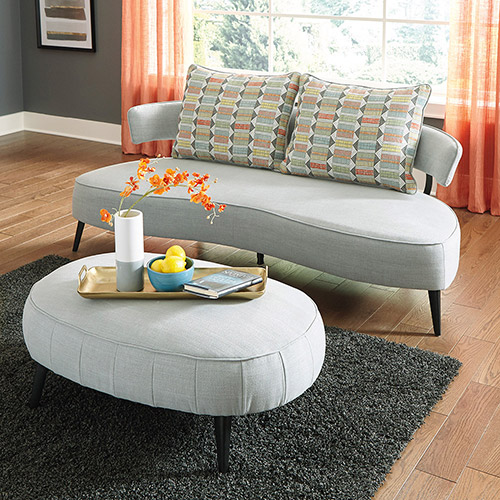 Hollyann RTA Sofa. Cool takes a new shape in your living room with this sofa. Rounding out your stylish, urban space, this piece sports a velvety soft upholstery and sleek, tapered legs. Curl up with comfort, and really turn around your home decor. Polyester upholstery. Assembly required. Color Grey
"Hollyann" collection contemporary sofa
Item Number: LR-109109573
Price: $598.00 $498.00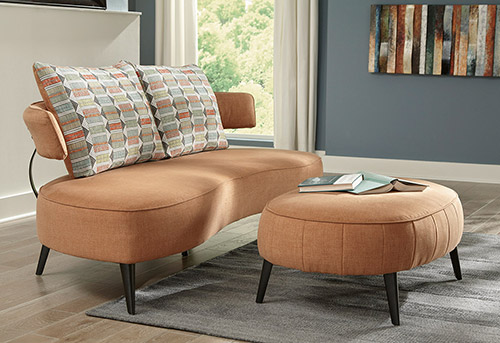 Hollyann RTA Sofa. Cool takes a new shape in your living room with this sofa. Rounding out your stylish, urban space, this piece sports a velvety soft upholstery and sleek, tapered legs. Curl up with comfort, and really turn around your home decor. Polyester upholstery. Assembly required. Color Rust
"Hollyann" collection contemporary sofa
Item Number: LR-109109228
Price: $598.00 $498.00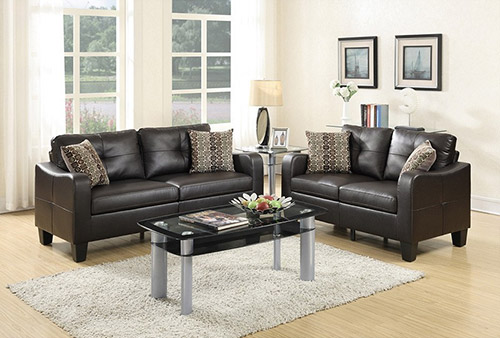 This 2-piece sofa set features a love seat and 2-seater sofa displays clean lines, curves, and angles in the right places. It also includes accent pillows. Available in bonded leather Espresso.
2 pc black sofa and love seat set in espresso bonded leather
Item Number: LR-109109045
Price: $748.00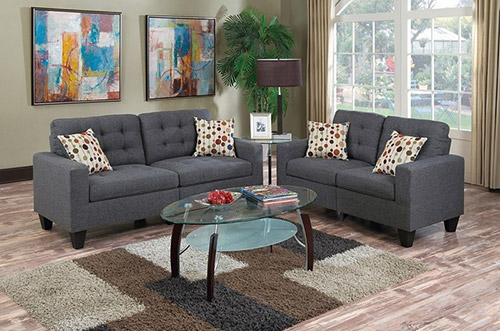 Sofa and love seat set upholstered in a blue grey linen-like cushioned fabric with asymmetric tufting and light accent stitching. Adorn your seating with accent pillows for added flair.
Sofa and love seat set upholstered in a blue grey linen-like cushioned fabric
Item Number: LR-109109038
Price: $748.00 $698.00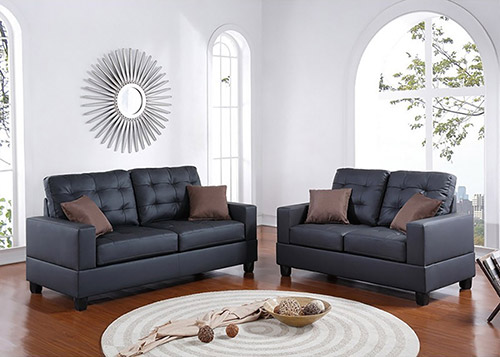 Believe in the possibilities of boldness with this 2-piece sofa set that includes a loveseat and a 2-seat sofa. Plush cushion, accent tufting and light stitching define this amazing seating space great for the modernly designed home. Available in faux leather black
2 pc sofa and love seat set in grey line-like fabric
Item Number: LR-109109058
Price: $798.00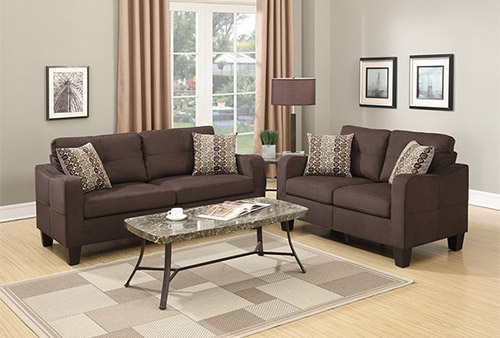 Create a living space with the essentials built for any living space. This 2-piece sofa set features a love seat and 2-seater sofa displays clean lines, curves, and angles in the right places. It also includes accent pillows. Color: Chocolate
2 pc black sofa and love seat set in chocolate line-like fabric
Item Number: LR-109109044
Price: $798.00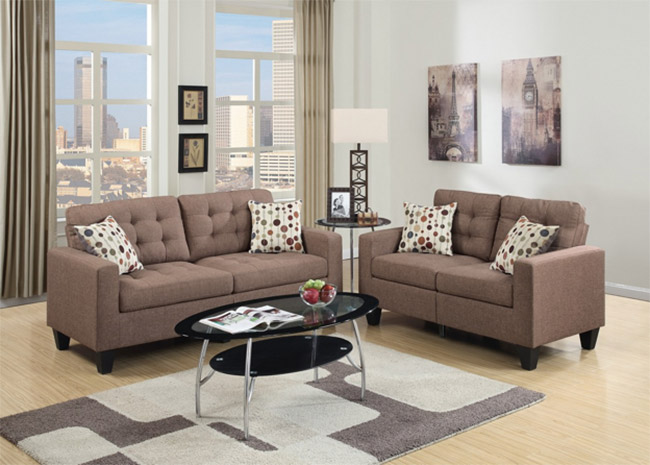 Come home to this 2-piece sofa set crafted in simplicity. Each piece is upholstered in a linen-like cushioned fabric with asymmetric tufting and light accent stitching. Adorn your seating with accent pillows for added flair. Available in blue grey, sand, black, and light coffee. Color: Light coffee
Living room set upholstered in a linen-like cushioned fabric
Item Number: LR-108108762
Price: $798.00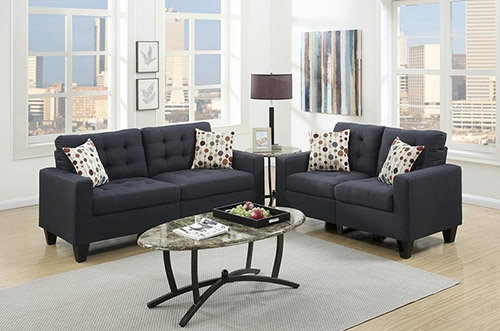 Come home to this 2-piece sofa set crafted in simplicity. Each piece is upholstered in a linen-like cushioned fabric with asymmetric tufting and light accent stitching. Adorn your seating with accent pillows for added flair. Available in blue grey, sand, black, and light coffee. Color: Black
Sofa and love seat set upholstered in a black linen-like cushioned fabric
Item Number: LR-109109039
Price: $798.00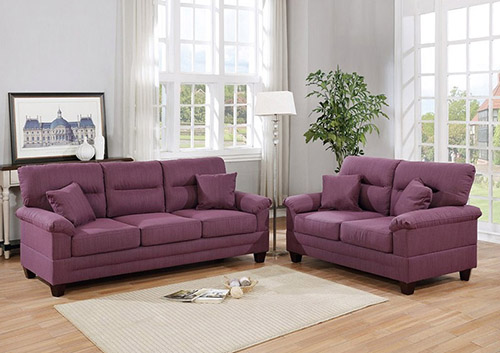 2-Pcs Sofa Set. With its soft linen, comfortable loveseat, and four matching colors pillows, this American made two pieces sofa set is the finest choice for you. The cozy and comfortable two pieces sofa collection fits any living room, and the coziness can just make you and your friends spend hours and hours while drinking wine and having cheese board together. Color Warm Purple
Sofa + loveseat set in warm purple soft linen
Item Number: LR-111111691
Price: $828.00 $778.00