DINING - SERVERS/BUFFETS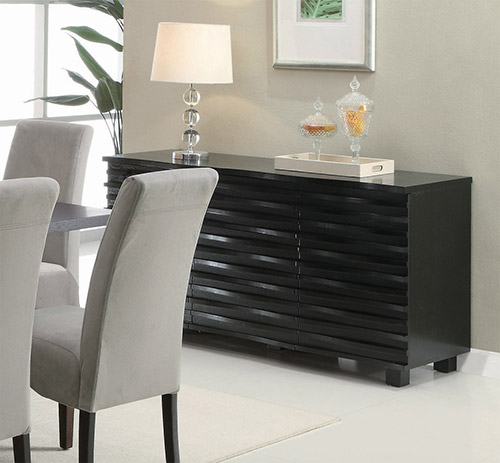 Stanton 3-Drawer Rectangular Server Black. The server features plenty of shelves for ample storage of your plates and silverware. It is sturdily constructed and has sufficient space on top for a vase of flowers and several bottles of wine. Finish: Black
"Delmar" 3-drawer server in black finish
Item Number: DR-110110610
Price: $748.00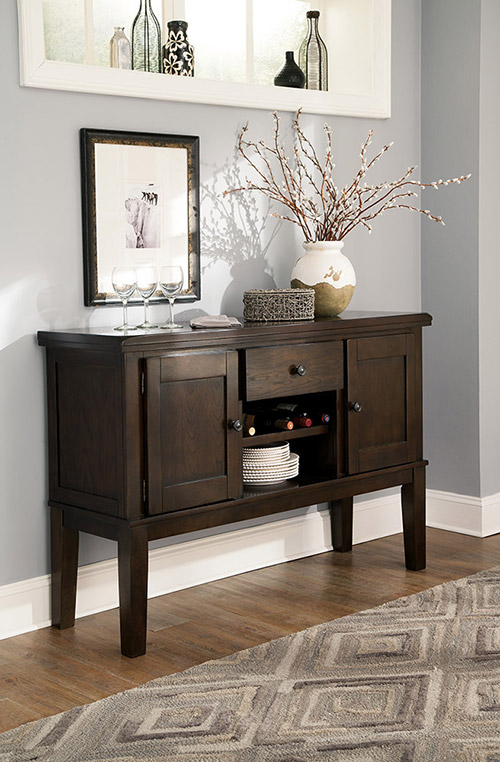 "Haddigan" collection dining room server
"Haddigan" collection dining room server
Item Number: DR-108108906
Price: $748.00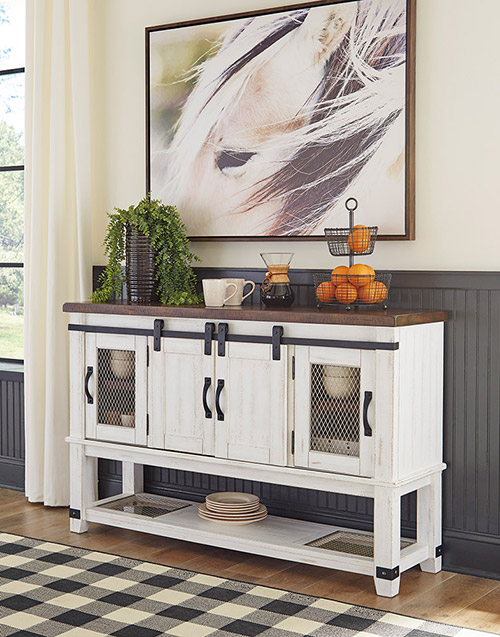 Valebeck Dining Server. To those with an appetite for rustic farmhouse living, this server dishes out irresistible form and function. Pair of cabinet doors with mesh wire inlays add a countrified cool element. Sliding "barn doors" revealing even more shelved storage are right on trend. This server's two-tone aesthetic pairs a distressed vintage white with an aged natural pine color top for twice the charm. 3 storage shelves
"Valebeck" collection server
Item Number: DR-110110400
Price: $768.00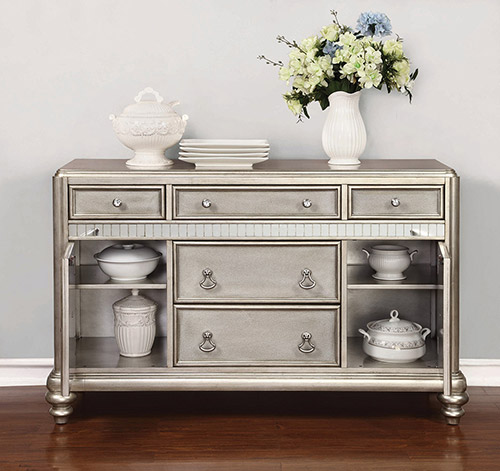 Danette 5-Drawer Dining Server Metallic Platinum. Richly appointed in a platinum metallic finish with hand-applied glazed highlights, this five-drawer server is exactly what your dining room has been missing. Delivering exceptional glamour, the server features open shelving on either side of two drawers at its center, perfect for stashing essentials and showing off beautiful china and glassware. Three upper drawers are ideal for utensils and tabletop necessities.
Danette collection server
Item Number: DR-110110300
Price: $978.00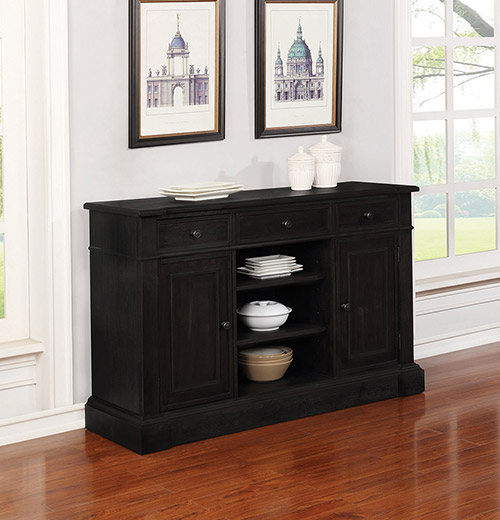 Phelps 2-Door Rectangular Server Antique Noir. This gorgeous server offers convenient space for storing and serving large parties or small gatherings. Antique noir offers a heady, dramatic finish that works with a variety of palettes. Stash essentials in three pullout drawers and behind two side cabinet doors. Use center cubbies to display decorative serve ware. Server has 2 doors and 3 drawers with adjustable display shelf to offer additional storage space
Phelps 2-door rectangular server in antique noir
Item Number: DR-110110337
Price: $1,148.00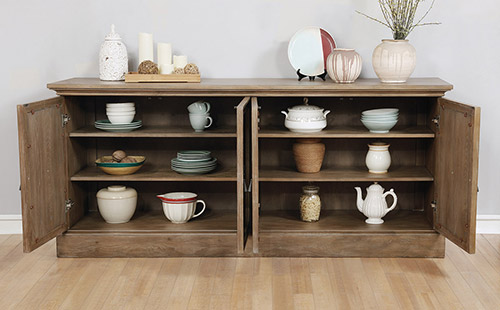 Brockway Cove 4-Door Server Barley Brown. A four-door server is accentuated with antique mirror door fronts to create a rich, classic accent piece. Refreshing weathered finish in light Barley brown tone. Server offers plenty of storage with four cabinet doors and gunmetal black hardware.
"Brockway Cove" 4-door server in barley brown
Item Number: DR-110110619
Price: $1,298.00