LIVING - 3PC TABLE SETS
"Wadeworth" 3pc table set. Frame with dark metallic finish; top with decorative laminate wood grain finish.
"Wadeworth" 3pc table set
Item Number: LR-109109723
Price: $138.00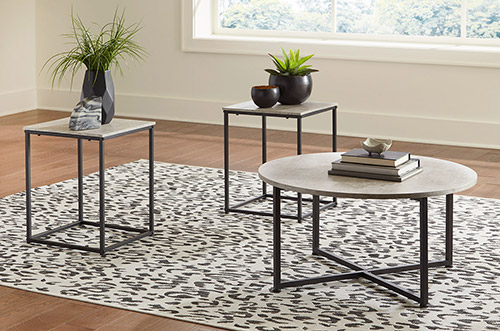 Lazabon table (Set of 3). Whether your style is cool and contemporary, modern industrial or Scandinavian-inspired, you're sure to find this set of occasional tables a welcome addition to your space. The faux concrete top is paired with a tubular metal base in a dark metallic powder coated finish, for a simply chic look that's so striking. Color: Gray/Black
"Lazabon" collection 3pc table set
Item Number: LR-110110050
Price: $138.00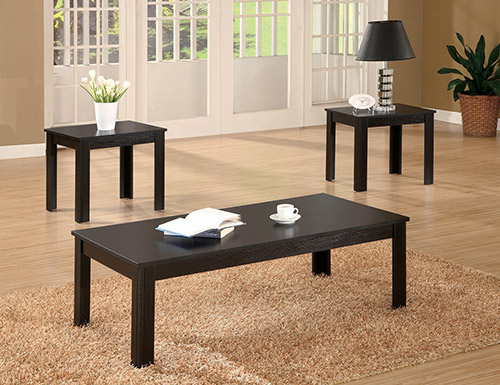 3-Piece Silhouette Occasional Set Black. Style a modern room with the clean lines from this three-piece living room set. A sleek black finish creates an elongated effect. Straight legs open up space while adding a layer of sophistication.
3 pc occasional table set in cappuccino
Item Number: LR-110110798
Price: $168.00
The Atlas 3 -Piece Occasional Tables Set. The cocktail and two end tables carry espresso-finished bases as well as round faux marble chocolate tops, which are perfect for placing vases, decorative bowls and framed photos.
"Atlas" collection ocassional table set
Item Number: LR-111111693
Price: $168.00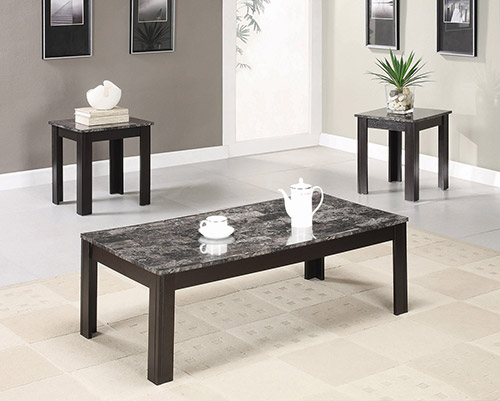 3-Piece Faux-Marble Top Occasional Table Set Black. All three pieces feature smooth, sophisticated, marble-like tops in a soft shade of grey, as well as black finished legs for a touch of transitional glamour. Whether used for gathering round with tea and snacks or as a surface for displaying mementos, this set will enhance any room.
3 pc faux marble top occasional table set in black
Item Number: LR-110110801
Price: $168.00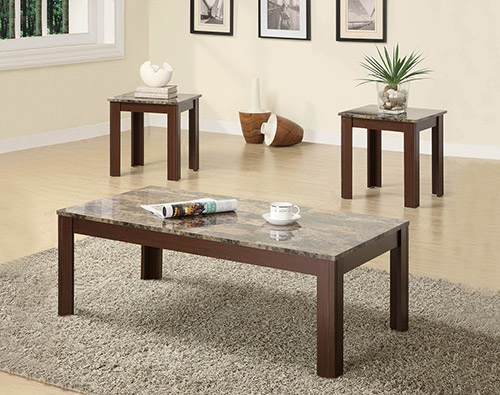 3-Piece Faux Marble Top Occasional Set Brown. This beautiful, three-piece occasional set comes with two square end tables and a matching rectangular coffee table. Stunning marble-like tops give each table a posh, opulent appearance. Simple, brown finish legs round out its exquisite look. Constructed from high-quality materials, this set enhances any home with durability and classic appeal.
3 pc faux marble top occasional table set in brown
Item Number: LR-110110802
Price: $168.00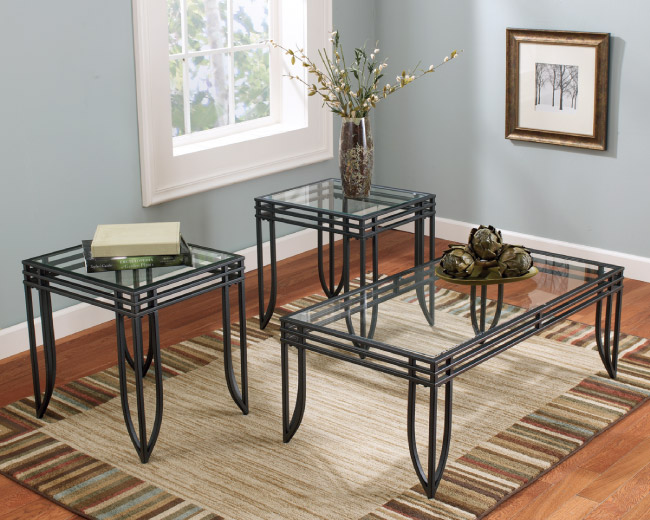 Exeter Table (Set of 3). The glass tops enhance the open and airy feeling you're going for—while the metal tubular frames in a rustic two-tone finish inject a highly contemporary vibe. Includes coffee table and two matching side/accent tables. Color: Black/Brown
Black Matrix 3 pc coffee table set
Item Number: LR-100100465
Price: $178.00
3 pc coffee table set with wood veneer top
3 pc coffee table set with wood veneer top
Item Number: LR-109109040
Price: $188.00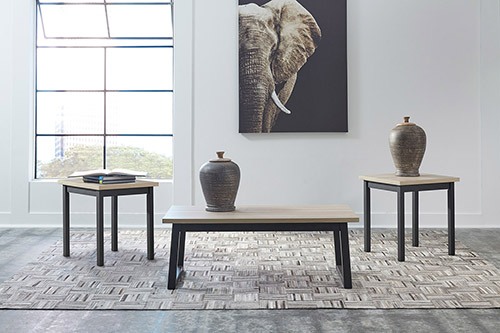 Waylowe Table (Set of 3). With its two-toned approach to style, this accent table set manages to be both earthy and elegant. Light tan wood-color laminate tops are a lovely complement to the dramatic dark finished wood legs. Color: Natural/Black
"Waylowe" collection 3 pc coffee table set
Item Number: LR-111111643
Price: $198.00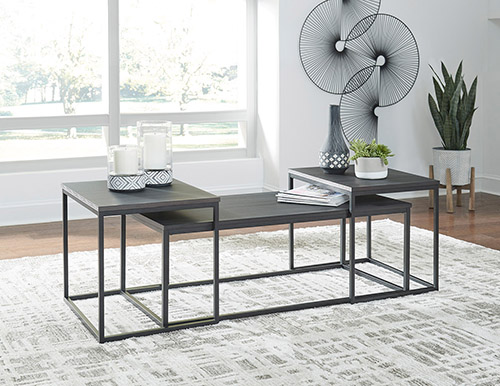 Yarlow Table (Set of 3). This occasional table set offers a casual, contemporary look for modern living. With a functional nesting design, the set provides a cocktail table and two end tables that slide together for small space living solutions. These pieces have a replicated blackened wood finish with a grayed, textural grain for a classic look. The metal bases elevate the table to create open space that adds a sense of lightness to your room. Color: Black
"Yarlow" collection 3 pc coffee table set
Item Number: LR-111111635
Price: $198.00